100 Women who changed the world, like a boss.
By: Ebrahim Aseem
Author of the book, "Why Men Cheat on Loyal Women"
100. Rita Moreno


First Latin American woman to have won all four major annual American entertainment awards: an Oscar, an Emmy, a Grammy and a Tony. 1961
99. Florence Kelley – Rescued kids from making Air Jack Johnson sneakers in sweatshops, like a boss.


Helped pass legislation banning child labor below age 14 in 1893.
98. Escrava Anastacia (Healer/Saint)


Worshiped in Brazil as a saint and heroine, Anastacia is considered one of the most important woman in black history within the culture of Rio de Janeiro.
As she grew up Anasatcia became the obsession of the owner's son, Joaquin Antonio.
Very beautiful, it is said that all the white women around were jealous of her, so encouraged Joaquin to make her wear the slave mask. As a punishment for repeatedly refusing his advances, he raped her and condemned her to wear the iron mask for the rest of her life, only removing it once a day to eat. She lived for some years before the toxicity of the metal from the mask became poisonous.
She was performing miracles toward the end of her life. It became gossip amongst the poor that she could heal because she had found it in her heart to forgive the torture she had suffered, and that she even healed her owner's son of some disease. At that moment she became a saint for many of the poor. Click the picture below to read more.

97. Flossie Wong-Staal – Inadvertently helped cure Magic Johnson like a boss.


First person to clone the HIV virus and map its genes, which helped to make the initial connection between HIV and AIDS. 1984
96. Dr. Mae Carol Jemison


1st Black Demale astronaut. Went into orbit aboard the Space Shuttle Endeavor on Sept. 12, 1992.
95. Eugenie Mikhailovna Shakhovskaya


First woman commissioned as a military pilot.
94. Jeannette Rankin


First female member of Congress. 1917 She was elected before women's suffrage in the US.

93. Viscountess Nancy Astor


First woman to take a seat in UK Parliament. 1919
92. Bessie Coleman


First black woman to earn a pilot's license. 1922
91. Amelia Earhart


First woman to fly solo across the Atlantic Ocean. 1928
90. Zitkala-Sa


Native American activist, writer. Participated in a 1923 investigation that exposed the widespread corruption associated with white guardianship of Indian properties and oil leases in Oklahoma. (Yankton Dakota, 1876–1938) Click her pic above to read more.
89. Baroness Bertha Sophie Felicita von Suttner


First woman to win the Nobel Prize in Peace. 1905
88. Josephine Baker
First Black woman to star in a major motion picture and to integrate an American concert hall. 1934.
87. Sabiha Gökçen


First woman to fly a fighter plane in combat. 1937
86. Shirley Dinsdale


First ever recipient of the Emmy Award, male or female. 1949
85. Muriel Box


First woman to win an Academy Award for Best Original Screenplay. 1946
84. Geronima Pecson


First Filipino & first woman elected to the executive board of the United Nations Educational, Scientific and Cultural Organization 1950
83. Ethel L. Payne
82. Sirimavo Bandaranaike


The world's first female head of government. 1960
81. Judge Constance B Motley – Got paid to win arguments against men, like a boss.
80. Eugenie Mikhailovna Shakhovskaya


First woman commissioned as a military pilot.
79. Becky Hammon


First full-time female assistant coach in any of the four major pro US sports. (Spurs, 2014)

78. Audre Lorde


Caribbean-American writer, Civil rights activist, Black femininst 1934 –February 18, 1934 – November 17, 1992.
77. Park Geun-hye


South Korea's first female president. 2013
76. Iranian mathematician Maryam Mirzakhani


First woman to win the Fields Medal. 2014
75. Anacaona


The First indigenous female ruler (Casica, Bahamas) documented in the New World. 1490s.
In the book, "Anacaona: Golden Flower, Haiti, 1490" author Edwidge Danticat writes,
She was born in Yaguana (today the town of Léogane, Haiti) in 1474. During Christopher Columbus's visit to the chiefdom of Jaragua in the southwest of Haiti in late 1496, Anacaona and her brother Bohechío appeared as equal negotiators. On that occasion, described by Bartolomé de las Casas in Historia de las Indias, Columbus successfully negotiated for tribute that consisted of food and cotton for the struggling Spanish settlers under his command. The visit is described as having taken place in a friendly atmosphere. Several months later, Columbus arrived with a caravel to collect a part of the tribute. Anacaona and Behechío had sailed briefly aboard the caravel, near today's Port-au-Prince in the Gulf of Gonâve.
Anacaona became chief of Jaragua after her brothers death. Her husband Caonabo, suspected of having organized the attack on La Navidad (Spanish settlement on northern Haiti), was captured by Alonso de Ojeda and shipped to Spain, dying in a shipwreck during the journey. The Taínos, being ill-treated by the conquerors, revolted, and made a long war against them. During a feast organized by eight regional chieftains to honor Anacaona, who was friendly to the Spaniards, Spanish Governor Nicolás de Ovando ordered the meeting house set on fire. He arrested Anacaona and her Taíno noblemen, all of whom, being accused of conspiracy, were executed. While others were shot, Anacaona was executed by hanging. She was twenty-nine years old.

74. Elizabeth Cady Stanton


Abolitionist, Feminist. Sparked Women's Sufferage Movement, helped Black Americans & Women get the right to vote. (November 12, 1815 – October 26, 1902
73. Jane Matilda Bolin


First black woman to graduate from Yale Law School. 1931
72. Phyliss M. Dale
71. Vijay Lakshmi Pandit


Was not only the first Indian but also the first woman president of the United Nations General Assembly. 1953
70. Peggy McIntosh – The 1st White Person to admit she benefit's from White Privilege, like a boss.


In her 1988 article, White Privilege: Unpacking the Invisible Knapsack, she confessed, "As a white person, I realized I had been taught about racism as something that puts others at a disadvantage, but had been taught not to see one of its corollary aspects, white privilege, which puts me at an advantage."
"Whites are carefully taught not to recognize white privilege, as males are taught not to recognize male privilege."
"Describing white privilege makes one newly accountable. As we in women's studies work to reveal male privilege and ask men to give up some of their power, so one who writes about having white privilege must ask, 'having described it, what will I do to lessen or end it?"
"I have come to see white privilege as an invisible package of unearned assets that I can count on cashing in each day, but about which I was "meant" to remain oblivious," McIntosh explained. "White privilege is like an invisible weightless knapsack of special provisions, maps, passports, codebooks, visas, clothes, tools , and blank checks.
69. Frances Perkins
68. Naziha al-Dulaimi


First woman minister in Iraq's modern history, and the first woman cabinet minister in the Arab world. 1959. She served as Prime Minister of Ceylon and Sri Lanka three times.
67. Wilma Rudolph


First American woman to win three gold medals in track & field in the 1960 Olympics.
66. Valentina Tereshkova


First woman in space. 1963
65. Patsy Takemoto Mink


First Asian-American woman elected to Congress. 1965. She served in the U.S. House of Representatives for 24 years.

64. Angela Davis


Counterculture activist, educator. with ties to the Communist and the Black Panther Party, Angela emerged in the 1960s as a leading feminist voice deeply passionate about abolishing the prison-industrial complex.
63. Masoumeh Ebtekar


First female Vice President of Iran. 2013
62. Audra McDonald


First woman to earn six Tony Award wins. 2014
61. Kathryn Bigelow


First woman to win Oscar for Best Director. (The Hurt Locker, 2010)
60. Dilma Rousseff


First female president of Brazil. 2010
59. Annie Dodge Wauneka
Navajo Nation leader, first woman elected to serve on the Navajo Tribal Council. Her efforts to educate her people about the prevention and treatment of disease, especially tuberculosis, saved many Navajo lives. She served as the catalyst to improving Navajo health care in general, bringing the issue to the forefront in the political arena. In 1963, Wauneka was awarded the United States Presidential Medal of Freedom for her service to the Navajo. (1910-1997)
58. Reita Faria


First Indian woman to win the Miss World title. 1966
57. Shirley Chisholm


First Black woman elected to Congress. 1968
56. Benazir Bhutto


First woman to head a Muslim state. 1988. She ended military dictatorship in the country, and was noted for her battle for women's rights.
55. Malala Yousafzai – Only 17 years old, winning Nobel Peace Prized like a boss!


Pakistani activist for female education and the youngest-ever Nobel Prize laureate, 2014.
On the afternoon of 9 October 2012, Yousafzai boarded her school bus in the northwest Pakistani district of Swat. A gunman asked for her by name, then pointed a pistol at her and fired three shots. One bullet hit the left side of Yousafzai's forehead, traveled under her skin through the length of her face, and then went into her shoulder.[5] After she regained consciousnesses, the Taliban reiterated their intent to kill Yousafzai
The assassination attempt sparked a international outpouring of support for Yousafzai. Deutsche Welle wrote in January 2013 that Yousafzai may have become "the most famous teenager in the world."
54. Nova Peris


First female Aboriginal Australian to win an Olympic gold medal. 1996
53. Barbara Smith


Writer, Activist. Champion for women's eight & LGBT rights, Black Feminist. (Born 1946)
52. Madam C.J. Walker


First Black American woman to be a self-made millionaire. Revolutionized Black hair care product industry. Used her wealth to promote Black women's economic independence.
51. Rosa Parks – Curved a White man during segregation like a boss.


She wasn't just "tired". She strategically planned for over a year her refusal to give up her seat, sparking the desegregation movement in the U.S. 1955.
50. Misty Copeland – Looking fashionably fierce while hitting adages & pirouette form grande plies like a boss.


Described by many as the first Black female soloist for the American Ballet Theatre.
However, Anne Benna Sims and Nora Kimball, who were with the ABT in the early and mid-1980s respectively, preceded her. As of 2008, Copeland has been the only African-American woman in the dance company for her entire American Ballet Theatre career.
49. Penny Ann Early – First woman to break a man's ankles with a cross over move without double dribbling, like a boss.


First woman to play major professional basketball. 1968
48. Patricia Palinkas


First woman to play professionally in an American football game. 1970
47. Willie Hobbs Moore


First African American woman to earn a Ph.D. in Physics. 1972
46. Bhanu Athaiya Designed "Slumdog Hundredare, The prequel" like a boss


First Indian Oscar winner. Won for Best Costume Design. 1982
45. Frances E.W. Harper


Abolitionist, Poet. Helped slaves escape via Underground Railroad. Helped found the National Association of Colored Women in 1894 aka the "mother of Black journalism."
44. Billie Holiday – The Beyonce-pop-icon of her day, but could actually SING soulfully, like a boss.


Jazz singer. (April 7, 1915 – July 17, 1959) With the soulful voice of Aretha & the social-consciousness of Angela Davis. This jazz singer's song "Strange Fruit" helped bring global awareness to the unjust lynching of innocent Black men. Imagine if 'Queen Bey" recorded a song like that for the #BlackLivesMatter movement.
43. Angelina Weld Grimké – Wrote successful Black plays, before 'Madea' like a boss.


Harlem Renaissance writer, teacher. One of the first Black women to have a play performed publicly. (1880-1958)
42. Barbara Jordan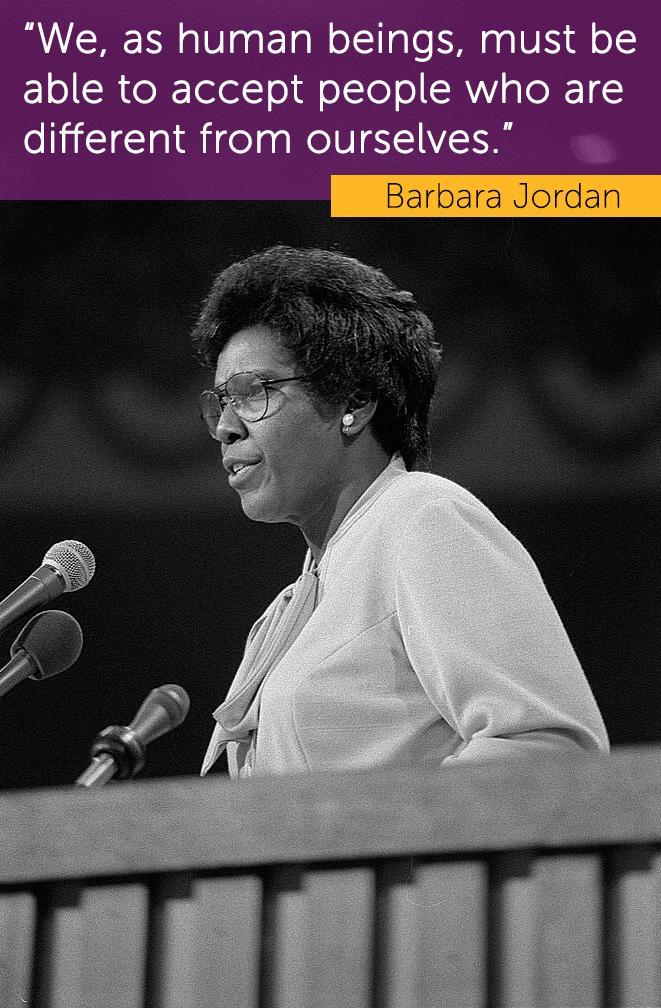 The first Black woman elected to the U.S. House of Representatives. (1936-1996)
41. Irene Greif


First woman to get a Ph.D. in computer science from MIT. 1975
40. Svetlana Savitskaya


First woman to space walk. 1984
39. Joan Benoit


First women's Olympic Marathon winner. 1984
38. Corazon Aquino


First female president of the Philippines. 1986
37. Aretha Franklin – The queen of soul covered Adele's "Rolling In The Deep" & slayed it, like a boss. Click her pic bellow to hear it!


First woman inducted into the Rock and Roll Hall of Fame. 1987.
36. Madeleine Albright


First female Secretary of State. 1997
35. Alice Walker – Penned the epic movie line, "you told Harpo to beat me?" like a boss.


Pulitzer Prize winning Author, of the book, "The Color Purple" (born February 9, 1944)
34. Frida Kahlo


Artist. Activist Champion for LBGT rights.
33. Euphemia Lofton Haynes


First Black woman to earn a Ph.D. in Mathematics. 1943
32. Karen Arthur


First woman to win an Emmy Award for directing. 1985

31. Wangari Maathai


First African woman to win Nobel Peace Prize. 2004
30. Halle Berry – Simulated taking the D from Billy-B-T for an Oscar like a boss.


First Black woman to win the Academy Award (Oscar) for best actress. 2002
29. Hillary Clinton Signs up for those annoying 'You've just won a free iphone' website pop-ups using her Secretary of State Email address like a boss.


First former first lady in the United States to win elected office. 2000.
28. Pratibha Patil


First Woman President in India. 2007
27. Ethel Waters


Singer. First African-American woman to be nominated for an Emmy Award. Pioneer for LGBT rights. Came out at a time when it was taboo-career-suicide to do so. (1896-1977)
26. Mary Therese Winifred Robinson


Served as the seventh overall, and first female, President of Ireland. 1990
25. Janelle Penny Commissiong


First black woman to win Miss Universe. 1977. from Trinidad and Tobago.
24. Margaret Thatcher


Britain's first female prime minister. 1979
23. Mary Eliza Mahoney – Become a nurse without DeVery, like a boss.
22. Mary A. Shadd – 1st woman to tell a man to shut the hell up, simply by giving him 'the look' like a boss.
21. Ellen Johnson Sirleaf


First female elected head of state in Africa. 2006 (Liberia)
20. Lorraine Hansberry


Broadway blues, jazz singer & actress. First Black woman nominated for an Emmy Award, in 1962. (October 31, 1896 – September 1, 1977)

19. Margaret Sloan-Hunter


Activist. Joined the Congress of Racial Equality at the age of 14, founded the National Black Feminist Organization, The Feminist School for Girls and the Berkeley Women's Center. (1947-2004)
18. Hiromi Miyake


First Japanese woman ever to win a medal in Olympic weightlifting. 2012
17. Elinor Ostrom


First woman to win the Nobel Prize in Economics. 2009
16. Joyce Banda


Malawi's first female president and only the second woman to lead a country in Africa. 2012
#15. Cristeta Comerford


First female White House Executive Chef. 2005
14. Nicola Adams


First woman to win Olympic gold medal for boxing. 2012
13. Liz Heaston


First female to play and score in a D1 college football game. 1997
12. Mukai Chiaki


First Japanese woman to travel into space. 1994
11. Cathay Williams
10. Marie Curie


First woman to win a Nobel Prize, the first person and only woman to win twice, the only person to win twice in multiple sciences, as a physicist & chemist, and was part of the Curie family legacy of five Nobel Prizes. She was also the first woman to become a professor at the University of Paris.
This Polish and naturalized-French genius conducted pioneering research on radioactivity. (7 November 1867 – 4 July 1934)
9. Laura Clay
8. Shirin Ebadi


First Iranian Nobel winner. 2003
7. Mukai Chiaki


First Japanese woman to travel into space. 1994
6. Sarah J. Woodson Early
5. Arabella Mansfield
4. Harriet "Moses" Tubman


Spy for U.S. Army. in Civil War. Helped hundreds of slave families escape to freedom. (c. 1822 – March 10, 1913)
3. Queen Nzingha or "Amazon Queen of Matamba"


born in West Africa in 1583 and died 1663. Many women ranked among the great rulers of Africa, including this Angolan queen who was an astute diplomat and excelled as a military leader. When the slave-hunting Portuguese attacked the army of her brother's kingdom, Nzingha was sent to negotiate the peace. She did so with astonishing skill and political tact, despite the fact that her brother had her only child killed.
She later formed her own army against the Portuguese, and waged war for nearly 30 years. These battles were a unique moment in colonial history as Nzingha allied her nation with the Dutch, marking the first African-European alliance against a European oppressor. Nzingha continued to wield considerable influence among her subjects despite being forced into exile. Because of her quest for freedom and relentless drive to bring peace to her people, Nzingha remains a glimmering symbol of inspiration.
1. Ida B. Wells – First Woman not to give up her seat, 81 years before Rosa Parks, like a boss.


Writer, Activist. Exposed "Black Lynching" to the world. Decided to keep her maiden name in a time when women were sold husband to husband as property. Thus, forced to take on the master (husband)'s last name, like a salve would take on a master's last name.

By: Ebrahim Aseem
Author of the book, "Why Men Cheat on Loyal Women"
Facebook.com/AEAseem
IG: @Fuel4TheBODY
Twitter.com/EbrahimAseem
Blog: RealNewsPaper.wordpress.com
Motivational #SpeakLife vidoes: Youtube.com/RealNewsmagazine